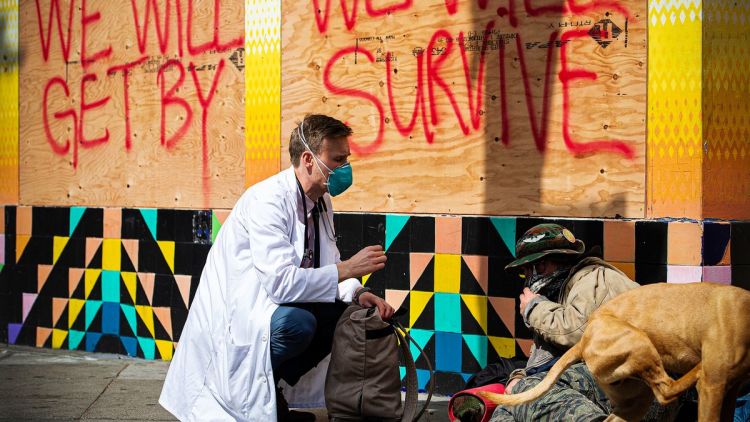 Courtesy: Vox
N.B. This is the second in a series of articles that will explore the failures of neoliberalism in response to the Coronavirus as well as the importance of progressive policies in helping to mitigate its impact and proactively minimize the risk future epidemics, such as this, pose to society and the economy.
The Coronavirus has forced the US populace to confront the reality of just how grossly unprepared we remain in many areas both socially and politically in responding to crises. And, while the issue of sheltering houseless individuals is nothing new, the reality is that many individuals privileged enough to have stable housing are, for the first time, being affected firsthand by this social and economic injustice. Before the epidemic it was easy enough for most to ignore the plights of houseless individuals by simply avoiding them or assuaging their guilt through the occasional charitable act, but this has never been a solution to the issue nor has it provided any meaningful sense of dignity to these forgotten individuals left behind by society. The Coronavirus has forced politicians, organizations, and other agencies that respond to the issue of houseless individuals to adapt and reconsider their strategies for the first time because the risk posed by the virus's ability to spread within these populations necessarily puts the rest of society at risk.
Even the CDC, which has been thoroughly gutted by the Trump administration, has spoken out about the significant risk posed by the Coronavirus to these houseless populations and society at large, stating:
"sleeping outdoors often does not provide protection from the environment, quick access to hygiene and sanitation facilities, or connection to healthcare… To prevent negative outcomes from lack of services, community leaders should continue activities that protect people experiencing homelessness, including supporting continuity of homeless services, healthcare, behavioral health services, food pantries, and linkages to permanent housing."
Yet, in spite of this, there is still much lacking in the solutions put forth to the houseless crisis both short term, in dealing with the Coronavirus epidemic, as well as long term in working to end this economic injustice.
Source: Twitter via @StreetSheetSF
In San Francisco, Mayor Breed has responded by moving to shelter houseless individuals in massive shelters as depicted in the prior image. Solutions such as this do little to minimize the risk posed by the spread of Coronavirus within these populations, but serve simply to possibly prevent the spread of the disease from houseless populations to the rest of the general public; which, ultimately reveal the true reason any meaningful and lasting solutions to the houseless crisis have been implemented on a federal scale to date: our politicians view these individuals as the problem itself, rather than a symptom of the insidious nature of Capitalism.
So what policy proposals would create an effective short term solution to the houseless crisis as well as providing a means to provide long term housing to these individuals? The most notable solution, one that has been enacted in certain areas and is on the platform of political groups such as the Rose Caucus is Housing First. But understanding the efficacy of such a solution requires a more in depth discussion of what Housing First initiatives are as well as how such an initiative could be enacted at the Federal level.
According to the United States Interagency Council on Homelessness, Housing First initiatives are a specific approach to providing permanent supportive housing, which aims to:
"make occurrences of homelessness rare and brief"

"help people who experience homelessness obtain permanent housing quickly"

"help people access the care and support needed to maintain their housing and achieve a better quality of life."
Furthermore, the Housing First approach looks to provide unconditional shelter for houseless individuals, rather than providing shelter only on the basis of certain conditions or the use of any mandatory supportive services:
"Housing First does not require people experiencing homelessness to address all of their problems including behavioral health problems, or to graduate through a series of services programs… either before obtaining housing or in order to retain housing. The Housing First approach views housing as the foundation for life improvement and enables access to permanent housing without prerequisites or conditions beyond those of a typical renter. Supportive services are offered to support people with housing stability and individual well-being, but participation is not required as services have been found to be more effective when a person chooses to engage."
This is one of the factors that serves to set the Housing First approach apart from other solutions to the houseless crisis as other programs do require the individual to both participate in and complete certain programs or meet certain conditions in order to gain and maintain access to housing. Additionally, the Housing First approach distinguishes itself through its more holistic approach to ensuring all individuals have adequate housing. Rather than being any single specific program, Housing First:
"requires a variety of programs and services including homeless outreach, emergency shelter, permanent supportive housing, affordable housing, rapid re-housing, along with case management supports, health care, income supports, employment services, and more. But it's also not enough for these programs to simply exist; they need to work as part of a whole system to help people achieve these aims. That means that the focus of all programs must be to help people obtain permanent housing quickly and without conditions and contingencies."
Ultimately, these programs are intended to empower houseless individuals to obtain housing quickly by providing them with the support and ability to access non-mandatory services intended to help improve their quality of life.
Courtesy: C. G. P. Grey (CC 2.0)
Another important aspect of the Housing First approach is that it "requires that communities constantly examine their overall set of programs to determine if they have the capacity to achieve the three aims above. Again, this is not about choosing this program or that program, but looking at whether the system as a whole is effective." This serves to ensure the programs are reformed and adapted to meet the needs of the individuals and communities that it serves rather than becoming complacent in its methods. By continually monitoring and adapting to the times and the needs of those it serves, the Housing First approach is uniquely suited to provide the long term framework and solutions needed to address the crisis of houseless individuals.
There is also empirical evidence to support the idea that a significant shift towards a Federal Mandate for the Housing First approach would be most effective in addressing the crisis of houseless individuals:
When it comes to the implementation of the Housing First approach at the Federal level, the Rose Caucus comes to mind as Housing First is one of the core tenets of their Housing Rights platform. Specifically, in their Peoples' Platform, the Rose Caucus calls to:
"Nationally adopt Housing First practices. When investing in direct relief for unsheltered persons, all government programs should utilize the Housing First model, which has proven to improve outcomes when compared with mitigation-based approaches to homelessness."
Mandating the Housing First model at the Federal level would require all government programs to adopt the approach that has proven empirically to be both the most cost effective and the most effective in reducing the numbers of houseless individuals. When I interviewed Violet Rae, Chair and a founder of the Rose Caucus, she elaborated on their use of the Housing First approach as a means to address the crisis of houseless persons, stating:
"one of the things that I'm most excited about, that can be done in the immediate future, is Housing First. Studies have been done that prove it is more costly for a city to provide care and maintenance around homeless individuals, than it is to just give them a house. We have 8 houses… for every houseless individual in the country. Not every houseless family, but every houseless individual could have a house. A lot of them are just sitting empty and dormant, and owned by banks. It would be really interesting if somebody were to use something like eminent domain. Even if we purchased them from these people [banks] at cost, it would still be less expensive per year to do that, than it is currently. And a lot of people, even those who live in conservative areas, have actually started doing these programs because they are so fiscally successful."
Courtesy: US Library of Congress

Interestingly, there is precedent regarding the use of eminent domain in relocating impoverished individuals stemming from Executive Order 7027, which established the Resettlement Administration, which was:
"To administer approved projects involving resettlement of destitute or low-income families from rural and urban areas, including the establishment, maintenance, and operation, in such connection, of communities in rural and suburban areas."
The order specifically authorized the Resettlement Administration the ability:
"To the extent necessary to carry out the provisions of this Executive Order the Administrator is authorized to acquire, by purchase or by the power of eminent domain, any real property or any interest therein and improve, develop, grant, sell, lease (with or without the privilege of purchasing), or otherwise dispose of any such property or interest therein."
While the Coronavirus has forced the crisis of houseless persons to the forefront of national politics, the issue isn't new and has been largely allowed to continue as corporate politicians and neoliberals willfully ignore the plight of these houseless populations in their failure to pass any significant legislation that would create meaningful change in the lives of all the affected individuals. Of the many possible policy proposals to address this social and economic injustice, the Housing First approach truly presents both the most effective and the most fiscally sound means of ensuring no individual is denied housing in contemporary America. While there is precedent for the use of eminent domain in purchasing the residences necessary to shelter all houseless individuals, corporate politicians and neoliberals continue to ignore this crisis and the intuitive solution offered in the Housing First approach. If real change is to occur, we must elect representatives willing to fight for the rights, dignity, and wellbeing of all individuals regardless of their economic means or position within society.